"Life is more fun if you play games (with your teens)!"–Roald Dahl
This is so true, and we are going to help you out this season to find some really great games to play with your teens!
Many people think that they only have time to play games on vacation or at the holidays.  Unfortunately, we fall into that group a lot of the time.  But, when we do take the time to actually play a game, it is always so fun!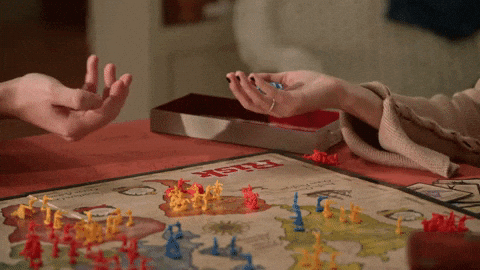 And, let's face it, time with our teens is so precious.  We know that the times that they are with us is limited.  They leave for college, and are home for vacations less and less.  Also, even when they are still living under our roof, they get busier and busier with school and work.  Plus, there are real benefits for everyone if you do this!
So, my resolution for time going forward, is that we are going to try to play a game on those weekends when my boys are randomly home from college, or when we are just bored and turn on the t.v. for another binge watching session.  I know we will be glad once we have done this!
"Just play.  Have fun.  Enjoy the game!"–Michael Jordan
Here is the list of games to play with your teens that we have put together for you.  Some we have played, some have been recommended to us, and some look too great to not mention!  *This post may contain affiliate links.  This means , at no additional cost to you, we will earn a small commission if you click the link and make a purchase.
Password  (This is the original version)  I have many great memories of family and friends playing this hilarious game!  You can play it so many different ways, and each way is fun!  Here is the travel version.
Catch Phrase  This is a similar game with phrases, not words.  Also so fun!
"Spending time as a family is not a matter of convenience, it is a matter of priority."–unknown, but true!! 
Blank Slate  This is another word game where you try to figure out what the other players are thinking.  You gather points not only by guessing, but by trying to match thoughts.  Sounds like fun!
Quelf:  Obey the Card  This game is sooooo much fun!  You have to obey the card, and the commands can be super silly.  The last time we played this, we laughed so hard.  It is a more active game, and great for all ages–I'd say 12 and up.
"Some games are fun even when you lose. Even when you know you are going to lose before you start.  It's fun just playing them."–Nevil Shute
Sequence  This is such a fun card game!  It combines a board with a card game.  It involves strategy, and can be played individually or with teams.
Wits and Wagers  Questions, guesses and bets.  Great multi-generational game with all sorts of crazy questions and answers.  I have only played this once at a friend's house, but we had a great time!
"We didn't realize we were making memories, we just knew we were having fun."–unknown
Spontuneous   Do your kids quote movies or song lyrics like crazy?  Then this is the game for them!  Words are given, and then the race is one to blurt out a song with that word in it.  You don't have to sing, so no talent is required!  I think that my teens will love this one.
Goat Lords  This sounds like a crazy fun game.  The goal is to become the Goat Lord.  The way to do this is to have the biggest herd of goats (cards) at the end of the game.  There is much magic and dueling involved!
"Families that play together, stay together."–unknown
 Taboo  This game will make you laugh so much.  Get your teammate to guess the word, but the trick is to not use certain words which makes this challenging.  This is fun to play with big family groups or friends.
Apples to Apples  Our boys love this game.  We've played for hours with their cousins and my sisters.  Some very funny red apple cards have been thrown down to describe the green apple card.  Their is also a junior version and a Disney version!
We hope you enjoy playing some of these games with your teens soon!
Holidays are a great time for good family fun.  Let us know if you have any favorites that we didn't list.  We can always add more later!
Check out these related posts:  Budget Friendly Ideas for the Holidays and Movies to Watch with Your Teens for Halloween, Thanksgiving, and Christmas.