Here are great dorm room storage ideas that make the space more organized and user-friendly! There are easy dorm room storage hacks for all the dorm room essentials and dorm room necessities.
The great thing about a lot of these ideas is that they are either hidden or utilize space above things that you have to have such as the bed and desk.
Space in a dorm room, even some apartments, comes at a premium! You need to be super planful and intentional to create as much storage as possible! So let's look at these ideas for maximum storage in a tiny space.
Quick note -that is my cute son #2 on the left with his buddy back when they were freshmen! *This post may contain affiliate links. My full disclosure policy is here.
Pin for later!
We have moved two boys into dorm rooms, and both times, I remember how surprised I was by how tiny the rooms were! I cannot imagine how it would be to have a girl moving into one of those rooms because it was hard enough with boys who don't really have a lot of "stuff". These are ways that we created storage for them without giving up any floor space.
If your teen complains about how cramped the room is, all of these ideas could easily be implemented immediately for a little bit of relief.
Do you have any great ideas for dorm room storage? Share them in the comments for all of us because we have one more to take to college in another little while, so all tips are appreciated!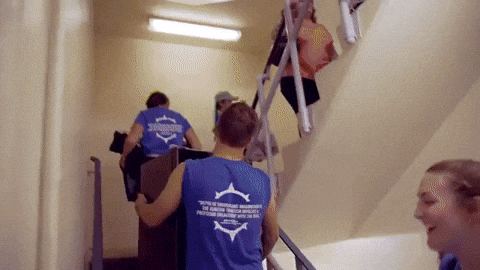 Check out these dorm room storage ideas
Dorm room -under bed storage
Wide dresser -Essential for all the clothing that won't fit into the tiny closet!
Underbed storage – This is a good option if the beds are lower.
Dorm room -over bed storage
Headboard with shelves -More logical storage that won't take up floor space.
Over the bed shelf – And, this is a cool rolling cart that goes over the bed like a hospital tray!
Dorm room -beside the bed storage
Bedside shelf -This is great if there is no room for a bedside table. And, here is a cloth version.
Nightstand storage -Great for books, lotion, kleenex, and all the other things….
Stick on the wall caddy -Another thing that you will have to check with the dorm to see if this is allowed, but a couple of these could be really handy!
Extra storage around or in the dorm room closet
Magic hangers -These are truly magical. Wish they had been around back in my day!
Over the door shoe storage -I still use this for all of my sandals. Never enough storage for all the shoes…
Storage mirror -This is a little pricey, but it's great storage that takes up no floor space. Check with the dorm/apartment to make sure that you will be able to hang this where your teen will be living.
Extra storage for the dorm room desk area
Over the desk shelf -This is wasted space if you don't use it!
Desk drawer storage organizer -The space inside the desk should be organized, too.
Other bonus storage ideas for a dorm room
Over the fridge shelves -A fridge is almost necessary to eliminate or reduce snack runs. This will save money in the long run. So, the space above a refrigerater may as well be utilized. Typically, an over-the-toilet shelf unit will work. Or, here is an over-the-microwave shelf. And, here is a small cloth caddy for some extra organization.
Ottoman storage -Extra seat. Extra storage. If beds are on risers, this will fit under there.
Hanging jewelry organizer -The one below locks, which would be good in a dorm room.
Dorm room storage cart! -This can hold so many things, and then be rolled out of the way when not in need.
I hope that this helps you as you try to plan out dorm room storage ideas.
Remember, that any of this storage can be added later if it gets to feeling too cramped! Here are some cute label ideas!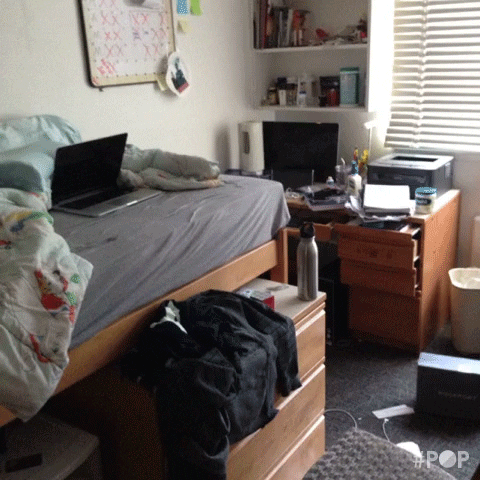 Related posts:
What will your freshman NEED in the dorm?
Best workout equipment for a small space
Backpack essentials for college
Best way to decorate a dorm room for Halloween
Best Year Round Posts for Parenting Teens and Tweens: 50+ Titles!
I would love to stay in touch!
Visit my Facebook page, and follow me on Pinterest and YouTube! I look forward to seeing you again! And, finally, if you feel like this post was helpful, please share it on your favorite social media platform! Thank you so much!❤️
Pin for later!