Best Stocking Stuffers for Teens
Stocking stuffers are my favorite way to give gifts to our boys! I know I have many fond memories growing up as a child of Christmas morning and running to see what was in my stocking. Finding the best stocking stuffers for teens can be a challenge!
One of my favorite Christmas memories was receiving a printout of the safety features of a car in my stocking. I asked my parents if it was there by accident because it was a car that we didn't have at the time. Turns out that they had gotten this car for me to take back to college.
I was sooooo excited. Mind you it was the ugliest car ever, but it was all mine, and I couldn't have been happier.
Needless to say, that was my favorite stocking stuffer ever, especially since the key was in the toe of my stocking. (Sometime I will have to write a post on the ugly cars that my parents got for my sisters and me to drive.)
Pin for later!
There are so many creative ways to give gifts in a smaller way. Our boys love to open their stockings first every Christmas morning. Santa props them up next to the fireplace since a couple of times they have pulled the hooks off of the mantle from their weight.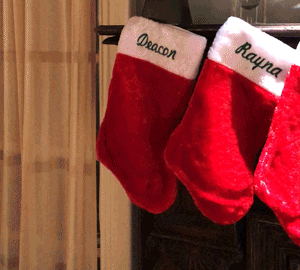 I have put together a gift guide for stocking stuffers for your teens. I asked my teens and their friends for these ideas, so here you go!
*This post may contain affiliate links. My full disclosure policy is here.
Stocking stuffer ideas…
Do you have a teen that loves the show Schitt's Creek? I wrote a post about the show with lots of gift ideas! And, don't forget that cash and gift cards are also great small gifts that are great stocking stuffers for teens!
A couple of great holiday party ideas for teens are in this post. One for guys and one for girls. And, here are some easy DIY ideas for holiday crafting and gifting.
Are you looking for new stockings? I have thought about ordering a new look when we downsize. For now, I will stick with what we have, but there are SO many cool looks for stockings out there!
Also, check out my other holiday posts:
49 Holiday Movies to Watch with Your Teen,
Budget Friendly Ideas for the Holidays,
11 Ways to Bond with your teen over the holiday break,
Advent Calenders for All Ages,
Gift Guide for Your Teen Girl, and
15+ Best Gift Guides for Teens
I would love to stay in touch!
Visit my Facebook page, and follow me on Pinterest and YouTube.
I look forward to seeing you again!
Pin for later!