Two of my boys have been driving for awhile, and our youngest just got his license! Want to talk about worry? I want to share tips for surviving these days, and give you some great ideas for the best gifts for a new driver.??
Here are three things to remember when you have a new driver in your house. And, don't forget to check out my best gifts for a new driver below! *This post may contain affiliate links. My full disclosure policy is here.
Pin for later!
Have clear expectations
Let your teen know that just because they have received their license, there will still be limits. The amount of driving freedom will be increased as they prove that they are responsible.
For instance, in the beginning, they may be allowed only to drive to and from school. Gradually, other activities can be added.
We were worried about our oldest parking in the crazy tight school parking lot. So, we chose a place on the back side of the school for him to park on the side of the road. It meant that he had to parallel park if he was late, so he always went early to be able to just pull in next to the tennis courts.
As your child drives successfully over time, and follows your rules, add to the places that they can drive and the times they are able to leave your house. We gradually let our boys drive at night to go to a friend's house or to a movie.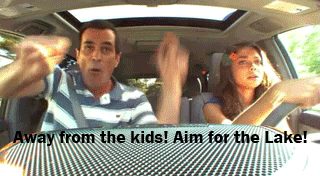 Have explicit rules
The rules were clear cut. They had to let us know when they were there, and when they were headed home. If they wanted to go anywhere else, they were to call and ask. This rule was huge because we wanted to know where they were at all times.
We did not track our boys, if you are wondering. My husband and I talked about this at length, and decided that just because there is technology to do this, we didn't feel the need for it. We had long talks with each of the boys as they started to drive with their permits. The boys knew that as long as they followed our rules, they would continue to have their driving privileges.
Limit night-time driving
Driving at night is more dangerous in general for all drivers. More accidents occur between 6 pm and 6 am for teenage drivers than any other time -more than 50%. Glare from oncoming headlights and low visibility are the main culprits for these accidents as well as young drivers trying to multi-task.
As your young driver gains more experience, have them go out for short nighttime errands. Our son loves a quick DQ run which is literally about a mile away. He gets to drive, and we know that he is not going far. Then gradually, maybe send them a little further away to the another destination that they might be equally excited about like a friend's house or another fast food joint that they love.
Here are GPS trackers for your loved ones in case of an emergency or a stolen car…
Non-negotiables
There are some non-negotiables. Buckle seatbelts. No multi-tasking while driving. No drinking and driving. Limit the number of passengers based on the graduated license. Here is the link to all state's licensing programs. Make sure that you, and your teen, know the rules.
Determine consequences for any violations of the above rules. What will your policy be if your teen receives a traffic ticket?
My advice is to be sure that your new teenage driver has some skin in the game. In other words, will they be making some portion of the car payments? Will they pay for the car insurance, or at least a portion of it? I would highly advise this because they will take driving that much more seriously!
Faith and Humor by Hillary Ibarra
Best gifts for a new driver
We just had a bad weather day, and I was thinking about the things that I like to have in my car at all times, and realized that my boys' cars are maybe not equipped with those same things. So, I have put together a list of items that you should be sure to put into your teen's car. Actually, we should all have these things in our cars! Here are some great gifts for a new teenage driver!
Rather than list each thing individually, I found these great kits!
Emergency Road Kits -There are 12 different ones, I will list a couple…
Auto Emergency Distress Kit -includes
many useful items, click the pic below for more info!
Car phone mount for dashboard -This makes it all hands off and safe
I also added some fun items as well because you know how fun it is to make a car your own!
Mini fidget pop clip-ons -These are fun for everyone!
Fuzzy steering wheel cover -I know a teen girl who loves hers!
Dice gear shift handle -My son got this in his Easter basket. I never would have thought of changing my gear shift handle…
Here are a couple of keychains: lucky penny, personalized leather, St. Christopher, charm ring for driver
And, some car air fresheners – my boys have tried all sorts. They crack me up how many times that they change them out! Here is one choice below…
Other related posts:
15 Ways to Keep Your Child Safe at College
Sexting and Your Teen: Get the Facts
When You Have An 18 Year Old: Important Information You Need To Know
Best Year Round Posts for Parenting Teens and Tweens: 50+ Topics
I would love to stay in touch!
Visit my Facebook page, and follow me on Pinterest and YouTube! I look forward to seeing you again!❤️
Pin for later!